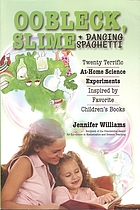 So what the heck IS grossology? Well some people think that anything that has to do with the human body like...blood, and earwax, are just plain gross. We'll be having some mythbusting about Great Questions about how your body works. Then we'll make some slime.
This is important stuff, guys. Besides, you can never have enough slime.
Why are Lego dudes so darn cute? These guys are waiting for you to come build them a house and carriage -- I've already torn this lovely chalet Kayden built apart. We'll be building with Legos and reading to the dogs on Thursday @ 11:00. And here's the good news! Bella's leg is all better!